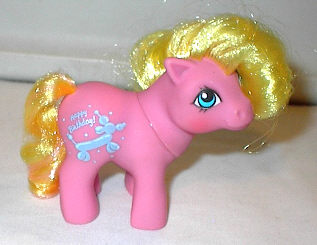 Baby Gametime
*Photo by Tinkerbeee. Used with permission.*
Baby Gametime is a pink baby earth pony with blue eyes. Her hair is light pink and light yellow. Her symbol is a blue balloon animal. She is in the Baby Ember Pose.
Baby Gametime came with a Pin the Tail on the Pony game (featuring Party Time, as in the Year 4 Party Gift Pack), two pink plastic tails for the game, a blindfold with blue and white stripes, and a ribbon.